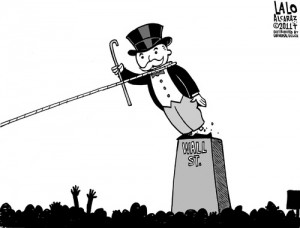 There are some news stories that are deeply satisfying to read and pass on and this is one of them. The disgusting 'let them eat cake' elitists at the Steven J. Baum law firm in NYC who made sport of the terrible predicament of foreclosed homeowners at their office Halloween party last month, are now out of work as the firm is closing its doors. How would you enjoy someone having a party to ridicule your bad luck, counselor? Have a good time finding a job making the same kind of undeserved loot Baum was paying, you miserable pieces of writ — I hear things are tough all over.
Horrible Law Firm That Mocked Foreclosure Victims Now Out of Business
by Tara Lohan
AlterNet.org
Nov. 21, 2011

It's hard to forget the shocking images the New York Times posted about the law firm Steven J. Baum that used it's Halloween party to mock foreclosure victims. Now, it looks like there has been some sweet justice. Gawker reports that the firm is closing down:

After the Times published those pictures of Baum employees gleefully mocking down-on-their-luck homeowners at a super fun Halloween party, Mortgage giants Fannie Mae and Freddie Mac cut Baum off. Last week, Steven J. Baum himself sent Joe Nocera, the Times columnist who first published the pictures, a pathetic email claiming that Nocera's column destroyed his firm: "There is blood on your hands for this one, Joe… I will never, ever forgive you for this."

But that wasn't really the straw that broke the camel's back. The Gawker story explains that there were some awful business practices at work, too

According to the Long Island Bankruptcy Blog, Baum filed "more foreclosure proceedings against New York homeowners than any other attorney in New York's history." How did he do it? By filing error-filled "robo-signed" documents, and using shady tactics that one Long Island judge likened to something out of the "Twilight Zone." Last month, Baum paid a $2 million fine to settle a Federal case accusing the firm of filing misleading papers to rush along foreclosures. That burden, along with their new tainted status, was apparently too much for the firm.

Copyright 2011 Tara Lohan and AlterNet.
"Behind every great fortune there is a crime."
— Honore de Balzac (1799 — 1850).
Cartoon copyright Lalo Alcaraz.