Sparks Hosts First Annual Walmart-NASCAR Custom Car Competition

by Rob Peter
Sparks (NV) News Leader
April 1, 2012

EXCLUSIVE TO THE NEWS LEADER — Our town's population of 90,000 grew by 5,000 today as car buffs from around the country converged on Sparks for the First Annual Walmart-NASCAR Customized Car Competition, featuring over 300 cars and trucks some might call 'beaters' on display.

The brainchild of Las Vegas promoter Al K. Hall, who has previously staged such events as the 'Las Vegas Hooker Fun Run for Crippled Kids' and the 'Broke Gamblers Get-Even $50K Cage Match,' Mr. Hall claims this is "no joke" and offers this background on the competition: "Every time I went shopping at my local Walmart, I was just knocked out by all the creative car customizing I saw in the parking lot by just plain folks. I thought, 'I bet lots of people would love to see these cars all in one place,' and that's how it started."

That was in 2002. For the next ten years, Mr. Hall sought funding for his project and a place to hold it. "Walmart would let us use their name," Mr. Hall said, "but not their parking lots. But when I got NASCAR to throw in the prize money and Sparks gave me a permit after Las Vegas and Reno turned me down, we were in business."

Kent Plovarian, local head of the Restoring Ethics and Morality group, expressed dismay at the competition, "This just exploits shoppers who can't afford to fix their cars properly and makes them look like fools. Hall should be ashamed of making money from their plight."

To which Mr. Hall responded, "This is quintessentially American — your trunk falls off, you build a new one from wood or whatever. No matter what happens, Americans find a way to cope and succeed. This is patriotic — how much more patriotic can you get than Walmart and NASCAR? Is this Plovarian against the can-do spirit that defines America?"

Judging of the prize winners took place this afternoon (see FAWNCCC photos), and the show closes tonght at 11:30 p.m. Tickets are still available at the event's location, the Joseph R. McCarthy All-Purpose Arena, US Rt. 80 at the Sparks 2-B exit.
Here are the winners:
The Grand Prize of $50,000 in Walmart coupons went to Dominique 'Dusty' Francon's "Junk in the Trunk":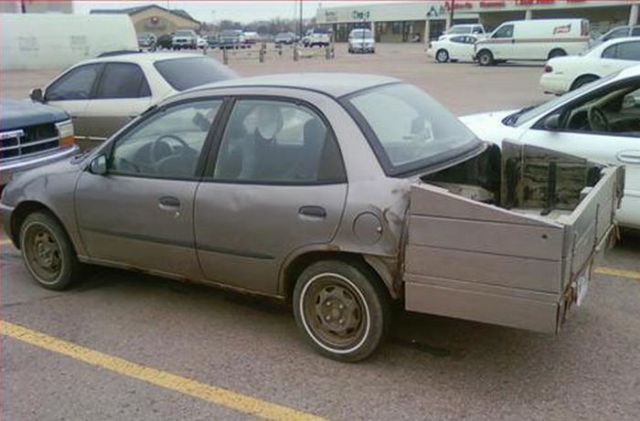 Second Place Prize of $25,000 in Walmart coupons went to Pete Keating's "Fellow Traveler" truck: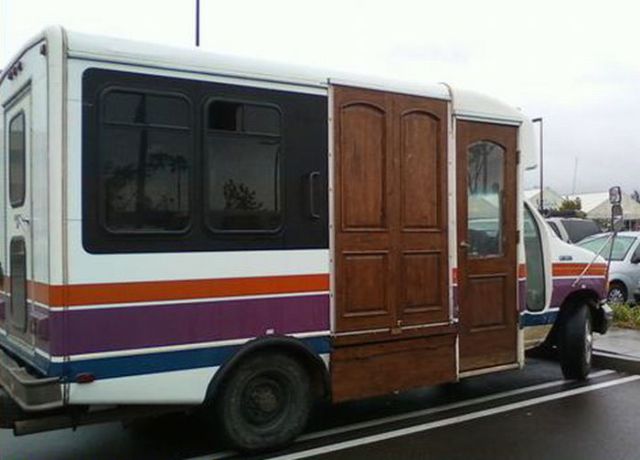 Third Place Prize of $10,000 in Walmart coupons went to G. Wynand's "Intimidator Special":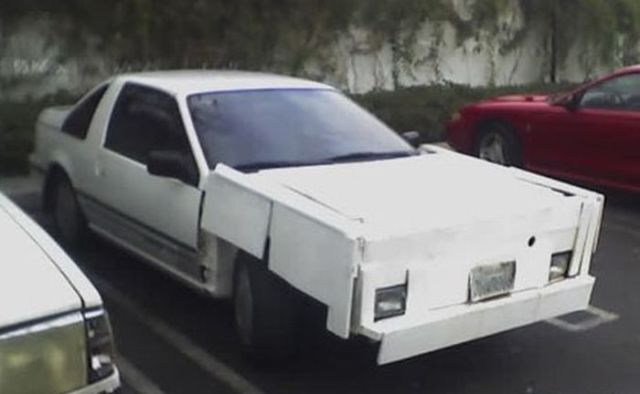 Honorable Mention and a $1,000 Walmart shopping spree went to Howie Roark for "Gas-Powered Generator AC Ride":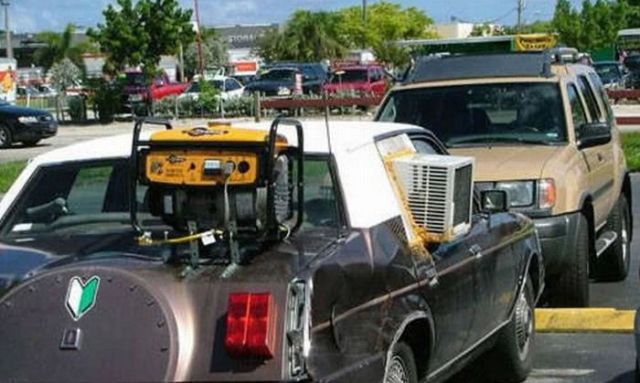 Honorable Mention and a $1,000 Walmart shopping spree went to Ellie Toohey's "Fantasy in Plastic and Duck Tape":