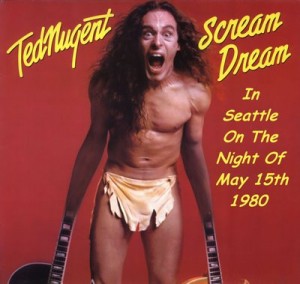 Apparently, "Cat Scratch Fever" has the same effect on the middle-aged brain as a long-term case of syphilis. Before he raves about being a "Black Jew" again, Nugent might want to take a good look at the white idiots who still think he's a rock star. This babbling asshat 'severely' needs professional help. Read on:
Ted Nugent: Worst political endorser ever? (+video)

On Tuesday, shock rocker Ted Nugent added to provocative comments he made at last weekend's NRA convention. The Secret Service will visit him to discuss his remarks about President Obama.

By Peter Grier, Staff writer
CSMonitor
April 18, 2012

Ted Nugent on Tuesday doubled down on his recent political provocation, telling the Dana Loesch radio show that the Obama administration is full of "corrupt monsters" and "communist czars" and that House minority leader Nancy Pelosi is a "varmint" and "subhuman scoundrel."

Mr. Nugent did not take back the assertion he made at last weekend's National Rifle Association convention that if President Obama is reelected, "I will either be dead or in jail by this time next year." The Secret Service has already confirmed that it will be visiting the aging shock rocker to determine if that phrase is an actual threat.

"See, I'm a black Jew at a Nazi-Klan rally … because I have the audacity to speak the truth to identify the violations of our government," Nugent told the Loesch show.

Wow. Ted Nugent identifies with Sammy Davis Jr. – who knew? Beyond that, we've got this question: Who's happiest about Nugent's visit to political crazy town – Democrats or journalists?

Read the rest, and the links, here.