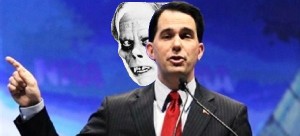 This country's best and funniest political journalist, Charles P. Pierce, currently camped out in Wisconsin for Scott Walker's recall, renders a brief analysis of the situation on the ground there in the excerpt below:
"If there's any prominent recollection among the people who have fought this from the beginning, it's that Walker blindsided everyone when he dropped what he called 'the bomb' on the state as regards the rights of public employees to bargain collectively. Out on the veranda, with the swallows darting along the grass at the top of the bluffs, Assemblyman Peter Barca, who became a YouTube sensation in March 2011 when he accused the Republican majority of breaking the state's open-meetings law in its haste to pass Walker's union-stripping bill. Barca recalls vividly how gobsmacked he and all the other Democrats were when Walker's real plans were revealed.

"'He didn't run on this. He never said he was going to do this' Barca says. 'As a Democratic leader in the Assembly, I met with the governor. He said he'd like to meet with us every week. We knew something was up. I heard from someone from one of the business groups, and he said, 'Hey, I'm picking up that the governor's really going to do something huge tomorrow that's going to affect collective bargaining in Wisconsin.' I said, 'Like what?' 'He called last night and said the governor had met with some business groups and he told them that he was going to basically end collective bargaining.'

"'Next day, we walked in about nine o'clock. My first word on this was, 'Governor, you didn't run on this. Why would you do something like this? I'll tell you right now, this is going to be met with massive resistance.' Now, never in my wildest dreams did I think it would be this kind of massive resistance. This was like the civil rights movement or the antiwar days, and people who'd served back then said this was even larger than that. I think there's been a re-emergence of people who care about Wisconsin values.'"

"But it still doesn't feel like that anymore. It feels tamed and broken and fit for a conventional bridle. After I was asked to leave, I wandered out to the edge of the road where a man named Craig, who's been at this since the chilly spring of 2011, was standing there holding a sign he'd made when he was marching around the capitol. It had on it Dr. King's famous prophecy about the arc of history bending toward justice. On the other side of it was a placard promoting Tom Barrett for governor.

"'It's not like it was,' Craig said to me. 'Back then, when we were walking, it felt like we were blessed or something. Now, it's hard work to get this done.' Somebody drove by and honked their horn. Craig waved. A movement has been channelled into a campaign, and campaigns die in the summer on days like this one, with the big lake all peaceful and blue, and the gulls circling the bluffs, and the yachts gently tacking away from the shore. Movements need cold winds and lowering skies. They need something to lean against, to push back on, to oppose."
— Charles P. Pierce, "In Wisconsin, a Recall Movement Becomes a Campaign, and Nobody's Sure How to Be Blind-Sided Anymore," Esquire, June 4, 2012.