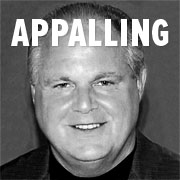 As appropriate as it is, there just aren't enough creepy dating sites to pay off Limbaugh's four-year $400 million contract. Since his major national advertisers are gone, along with a good portion of the local ads, does he seriously think small-change advertisers like AshleyMadison.com will sustain him? Moreover, is he deluded enough to believe Clear Channel/Premiere Networks will continue to pay him a $100 million annually when his show only earns a small fraction of that in ad revenue? I wonder if Rush will still insist "Everything's cool" and there is no problem on Monday's show, as he did last week. Or will he just whistle — you know, like past a graveyard.
Rush Limbaugh's Show Now Attracting Creepy Dating Sites

by Jess Dweck
indecisionforever.com
Mar 8, 2012

Ever since Rush Limbaugh's infamous "slut" comment, sponsors have been fleeing the show faster than Rush running from a pill-sniffing dog. At this point, he's so used to people pulling out, it's no wonder he thinks free birth control is unnecessary.

Despite speculation, the right-wing radio blowhard insists that business is booming…

Limbaugh, citing claims he had lost 28 sponsors [now 98], said that is "out of 18,000. That's like losing a couple of french fries in the container when it's delivered to you in the drive thru."

Fortunately for Rush, there's still one kind of business that doesn't mind advertising on his show – creepy dating websites…

[W]hile AOL and Allstate headline the more than 20 advertisers [now 98] heading for the exits, at least two new would-be sponsors — matchmaking sites SeekingArrangements.com (pairing sugar daddies and sugar babies) and AshleyMadison.com (for adulterers) — are vying to fill that vacuum…

"Advertising on Rush seems to be the logical move, he's actually a sugar daddy," Seeking Arrangements founder and CEO Brandon Wade told the Daily Beast…

"[E]ven though a lot of Republicans are not willing to say they embody the sugar-daddy lifestyle," many in fact do, he said, claiming that 60 percent of the site's male members say they are Republicans… Noel Biderman, the CEO of AshleyMadison.com offered a less contorted explanation… "I know my audience listens to Rush Limbaugh."

So, companies that cater to adulterers and sugar daddies want to advertise on the radio show of a thrice-married cradle robber. That's a little on the nose, don't you think?

"Sugar daddy" is definitely a term that comes to mind when thinking of Rush Limbaugh. Not because he's married to a woman half his age, but because he looks like he has a raging case of diabetes.

Read it here.