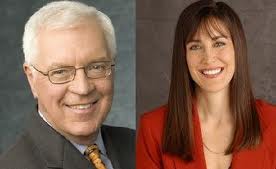 Finally, an early morning alternative for progressive political junkies to MSNBC's execrable "Morning Joe" and whatever flash-bang waste-of-time the moribund CNN has on. (With apologies to CNN's Don Lemon, who tries to do a good job.) Not worth consideration are the happy-talk morning marketing fests on the major broadcast networks, nor the dimwitted arsenal of GOP propagandists at "Fox and Friends." According to the Washington Post, Bill Press' show will air from 6:am to 9:am ET weekdays, and Stephanie Miller will follow from 9:am to Noon ET. Both shows premiere next Monday morning, March 26th. Here's an excerpt from the Current TV press release:
MORNING BECOMES PROGRESSIVE: CURRENT TV LAUNCHES NEW MORNING NEWS BLOCK FEATURING BILL PRESS AND STEPHANIE MILLER

"Talking Liberally: The Stephanie Miller Show" and "Full Court Press: The Bill Press Show" To Debut in Early Spring

New York, NY ­ March 5, 2012 ­– Current TV today announced the launch of a new morning news block featuring live simulcasts of the radio programs "The Bill Press Show" from 6am-9am ET and "The Stephanie Miller Show" from 9am-12pm ET every weekday starting early this spring. These additions further strengthen Current's line-up of political commentary and analysis programs which include "Countdown with Keith Olbermann," "The Young Turks with Cenk Uygur," and "The War Room with Jennifer Granholm". […]

Every weekday Current TV's camera will be live inside Bill and Stephanie's studios to bring viewers live coverage of two of the most progressive radio shows on the air today. Current viewers will now have access to daily live interviews, political commentary, listener calls, as well as Bill and Stephanie's take on the news of the day.

Read the rest here.
Now if only Current TV can get on as many cable boxes as Fox and CNN. One question for Current: When are you going to get around to airing Amy Goodman's daily TV show, "Democracy Now"? Oh, and some Thom Hartmann wouldn't be a bad thing, either.