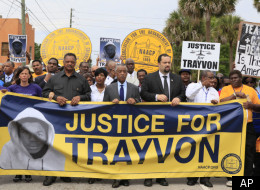 Florida's Republican a-hole Medicare-fraud Gov. Rick Scott appointed Angela Corey as a 'special prosecutor' to determine if charges should be brought in the Trayvon Martin murder. Corey then announced she would send the evidence to a grand jury, until today. It must have dawned on Corey that there is now enough public evidence to bring several charges against Trayvon's shooter George Zimmerman, including homicide in the first degree, so she backed off. No grand jury, but her 'investigation' will continue, which likely means she's trying to run out the clock until mainstream media attention dwindles and then will decide not to arrest and prosecute Zimmerman. Why would Corey do this? First, Republicans have an interest — the deep pockets of the NRA — in protecting 'Stand Your Ground' laws — a charge and conviction in the Trayvon Martin case might lead to a public demand for eliminating or changing those laws. Next, the state prosecutor who refused to charge Zimmerman around the time of Trayvon's killing, even though the lead detective wanted manslaughter charges, and the Sanford Police's conveniently 'sloppy' record of racism in the handling of the shooting deaths of black people, might spark federal investigations which would lead into the offices of prominent Republicans who have been condoning and covering up this kind of institutional racism for years and Corey can't have that. Third, the Republicans would take a hit from their own crapshit crazy base if it seemed they were 'caving' on this issue — the GOP base doesn't think Zimmerman did anything wrong by killing one of 'them,' and are furiously defending him. That means many might stay home from the polls next November or, worse, support a third party if Corey indicts Zimmerman. The question is: Are we going to let Florida get away with this rank injustice? If Corey can't use the evidence already released to the public to arrest Zimmerman, let's demand a prosecutor who isn't so cozy with the governor and the GOP to conduct the investigation.
Special prosecutor will not use grand jury in Trayvon Martin investigation

CNN.com
April 9, 2012

State Attorney Angela Corey, appointed as a special prosecutor in the February shooting death of 17-year-old Trayvon Martin, has decided against sending the case to a grand jury, her office said Monday.

"The decision should not be considered a factor in the final determination of the case," Corey's office said in a statement.

The grand jury, set to convene on Tuesday, was previously scheduled by the former prosecutor.

Corey previously said she has not used grand jury's in cases like this and added that from the time she was appointed she said she may not need a grand jury.

The decision about whether or not to charge George Zimmerman in the case now rests with prosecutors.

"At this time, the investigation continues and there will be no further comment from this office," in the statement.

The decision means that the timetable for any possible charges remains up in the air.

Read the rest here.

Copyright 2012 CNN.com.
Also read:
Trayvon Martin Case Spotlights Florida Town's History Of 'Sloppy' Police Work
— Trymaine Lee & John Rudolf, Huffington Post, April 9, 2012.