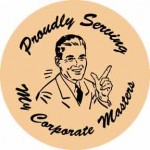 If it's in the UK, it will be coming here next, you can bet on it. Note that the lobbyists are violating British law by doing this; will David Cameron's Tory (conservative) government enforce the law, or pull a Bush and ignore it?
Revealed: lobbyists' plans to hijack 'people's petitions'

Bell Pottinger memo offers to help clients shape EU law – despite ban on business involvement

by Kevin Rawlinson
The Independent (UK)
April 10, 2012

Two of Britain's largest lobbying firms have launched bids to help big business exploit the European Citizens' Initiative – a new programme that was meant to involve ordinary people in EU law-making, The Independent has learned.

A leaked memo shows that Bell Pottinger, the subject of an undercover investigation published in this newspaper in December last year, has offered to help potential clients set up petitions demanding changes to EU law under the new programme, whose rules specifically bar organisations from doing so.

And information posted on the website of its fellow lobbyist Fleishman-Hillard shows it too is offering to help businesses hijack the initiative, which came into force on 1 April.

"They are trying to muscle in. We have done everything we can to try to put safeguards in place to discourage that from happening," said an aide to Maros Sefcovic, the European Commission's vice-president, who is responsible for setting up the initiative.

The revelations will put more pressure on David Cameron to take action over lobbying firms based in Britain. In February 2010, he made a speech warning that lobbying in Westminster was "an issue that exposes the far-too-cosy relationship between politics, government, business and money".

Plans to introduce a register of lobbyists, potentially forcing firms to reveal client lists, were announced by the Government in its Coalition Agreement. A consultation, due to close this week, will look at who will be compelled to sign. But, under the current terms set out by the UK Public Affairs Council, companies based in Britain but lobbying in Brussels are not defined as lobbyists. Tamasin Cave, director of SpinWatch and leader of the Alliance for Lobbying Transparency, said: "Professional lobbyists already have such disproportionate access to Brussels. If they are seeking to use the European Citizens' Initiative [ECI] to gain more influence, it does not seem to be in its spirit; it almost seems greedy for them to try to muscle in.

Read the rest here.