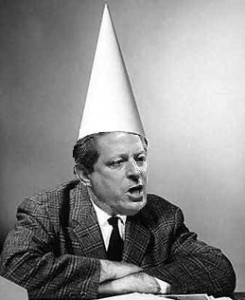 Time to take the question mark off of my post of Jan. 13, 2012, "Is Olbermann Out at Current TV?" Keith's been fired, apparently for not playing nice with Al Gore and the rest of Current management. Here's the 'letter to viewers' Current released after the announcement of Olbermann's firing:
"We created Current to give voice to those Americans who refuse to rely on corporate-controlled media and are seeking an authentic progressive outlet. We are more committed to those goals today than ever before. Current was also founded on the values of respect, openness, collegiality, and loyalty to our viewers. Unfortunately these values are no longer reflected in our relationship with Keith Olbermann and we have ended it."
While at the fledgling progressive network, Keith Olbermann never demonstrated any lack of respect to his audience, but obviously has shown disdain for the college boys in the head office at Current who apparently haven't treated him very 'collegially.'  Olbermann is suing Current and we'll have to see how that shakes out.  In a lengthy tweet on his departure and proposed lawsuit, Keith ended with:
"In due course, the truth of the ethics of Mr. Gore and Mr. [Joel] Hyatt will come out. For now, it is important only to again acknowledge that joining them was a sincere and well-intentioned gesture on my part, but in retrospect a foolish one. That lack of judgment is mine and mine alone, and I apologize again for it."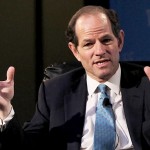 Current TV, in its profound wisdom (joke), has replaced Olbermann's "Countdown" with 'Viewpoint with Eliot Spitzer' which premiered yesterday. Perhaps they can land Kathleen Parker to co-host and score the ratings bonanza CNN had with the pair. (That's also a joke.) I have nothing against Spitzer, but he's not a TV guy, he's a politician and, if not for that — ahem — overblown dalliance with a prostitute (which I don't care about), he'd still be governor of New York and possibly prosecuting some of the Wall Street swindlers who lit a bonfire under the 'Hookergate' story to be rid of Spitzer.
Speaking of Olbermann's effectiveness as a host and his ego, my opinion hasn't changed since the Jan. 13th article (and excuse me for quoting myself):
"This is where a firebreather like Olbermann keeps the show moving; he's opinionated, fearless, and articulate and funny enough to make his what he has to say worth hearing. It's doubtlessly true that he's something of an egotistical prima donna, but then, you'd have to be to hold forth for an hour each weekday night and maintain an audience as Keith has all these years. Many minor sins can be forgiven (by me anyway) because he's reasonably honest, doggedly professional, and seems to care deeply about what he's putting on the air, despite occasional excursions down Pomposity Lane. Such people often do not play well with others, but they don't waste your time with a shoddy finished product, either."
Speaking of Olbermann's future, I'll also stick with what I wrote last winter:
"… we'll just have to look for him [Olbermannn] elsewhere and don't discount another tour of duty at CNN — every combination CNN has stuck into the 7:pm [Central] time slot has been an abysmal, embarrassing ratings stinkbomb, including the present scrap of scat, "OutFront" with prissy Wall Street fembot Erin Burnett. The simple fact is, CNN is on more cable boxes than Current or MSNBC and Olbermann might relish giving his nemesis at Fox News, Bill O'Reilly, a real challenge in the ratings. (I have no doubt Keith would have blowhard Billo on the ropes in a month.) The only question is: would tepidly right-leaning CNN management put up with Olbermann, and vice versa, in return for that kind of ratings bonanza in prime time? Stay tuned…"
Of course, it's also possible Keith is tired of TV and wants to move on to something else. He has enough fame as a media 'enfant terrible' and should have enough money from his various contracts to give him some room to move. Current TV has made a major mistake by canning Olbermann; Cenk and the Young Turks are okay, but on too early; Spitzer will prove to be a bust, and Gore's good buddy Jennifer Granholm is nearly unwatchable, leaving Current with a flat prime-time schedule when compared with rival MSNBC. Bill Press in the morning is a welcome alternative to the lukewarm "Morning Joe" brew, as is the hilarious Stephanie Miller, but both programs just air the hosts doing their daily radio shows which isn't exactly what you'd call 'stirring optics.' If Current ever expects to compete with MSNBC or Fox News, Al Gore and the rest of his executive-suite fraternity may have to step aside and let someone who knows what they're doing program the network.  Oh, and drop all the cheapo SWAT team programming that conflicts with the alleged progressive mission of Current. Show reruns of "Mystery Science Theater 3000" or anything by Robert Smigel instead.